"How do all the construction workers know what to do"?  – Lil B (6 yrs old)
It's no secret, my son, Lil B loves to build and he has been monitoring the progress of a large construction site near our house.
The construction site is located on a large hill. It has been fascinating to watch as the construction workers clear the hill and grade the land even before they even begin building.
I am always looking for ways I can extend Lil B's knowledge and interest in construction building.
I used his question, "How do all the construction workers know what to do"?  as a creative prompt for our next STEAM activity.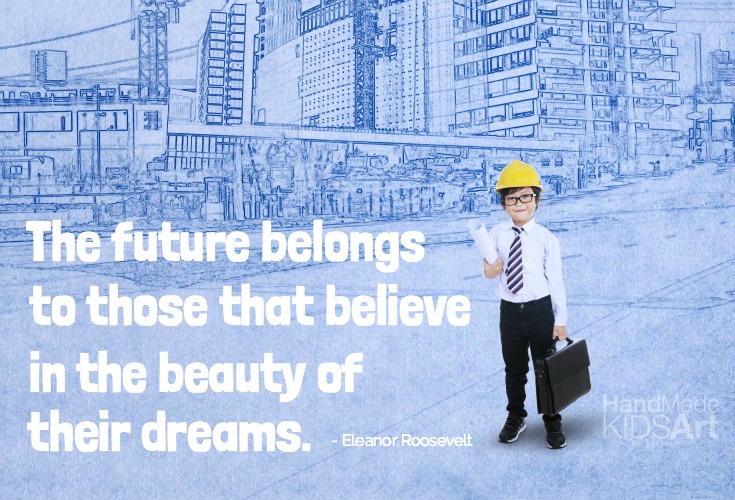 Architects use  blueprints to communicate the building details to the construction workers.
A blueprint is an architectural or engineer reproduction of a technical drawing.
While today most blueprints are no longer blue (due to advancement in technology with the use computers) blueprints still are used to communicate important details to the construction workers.
Luckily, you do not need fancy computers to introduce the idea of blueprints to your child.
This easy STEAM activity combines Art and Math to create your own blueprint with LEGO.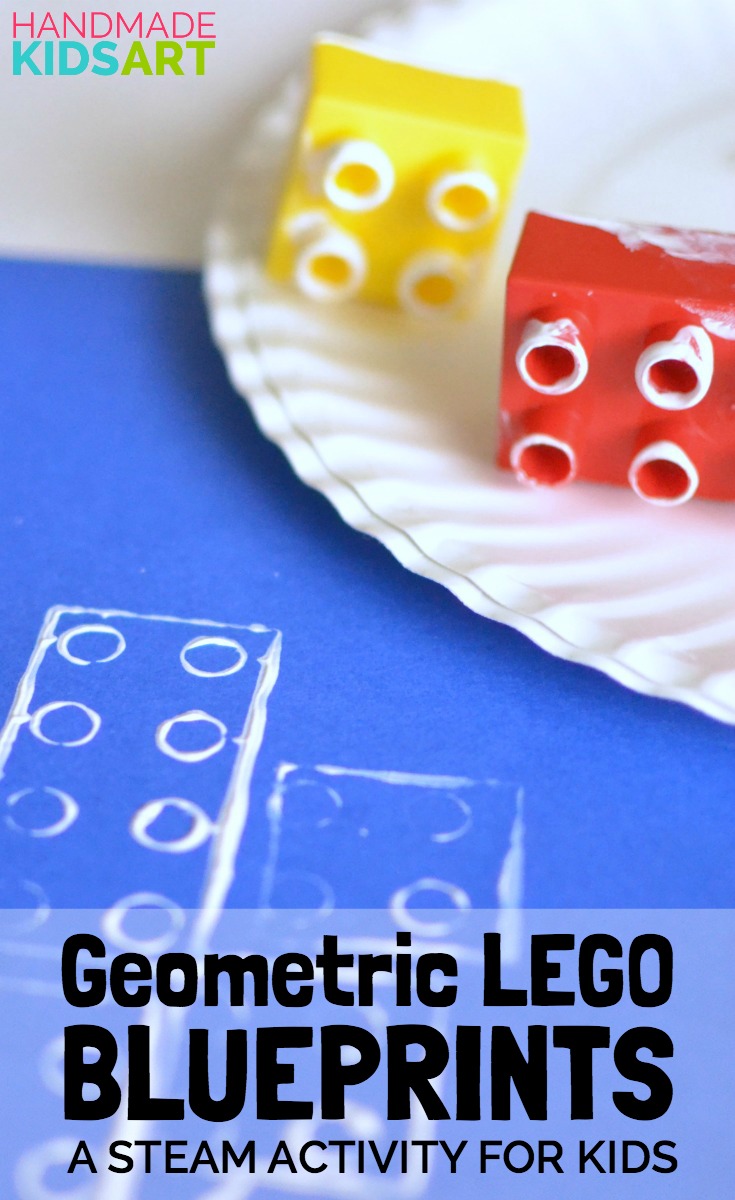 STEAM is the combination of Science, Technology, Engineering, Art and Math.
STEM + Art = STEAM
The inclusion of adding Art to STEM is essential to raising a creative and innovative thinker, especially for young learners.
STEAM activities support your child's natural curiosity and creativity and prepare your child for future success.
Before creating your blueprint, you must decide what you are building.
Lil B wanted to create a skyscraper.
We discussed what type of shapes create a skyscraper…square, rectangle.
Once Lil B had an idea of what type of building he wanted to create, he set out to make the blueprint. 
---
Vocabulary  
Definitions from Merriam-Webster
a photographic print that shows how something (such as a building) will be made,  a detailed plan of how to do something
Geometric :
utilizing rectilinear or simple curvilinear motifs or outlines in design ,  of or relating to art based on simple geometric shapes (as straight lines, circles, or squares)
to give a particular form or shape to (something) : to work with (a material) in order to make something from it
---
This post contains affiliate links to products I personally recommend. Click here to read my full disclosure policy. Thank you for supporting Hand Made Kids Art.
Materials:
LEGO DUPLO Bricks
Washable White Paint
Paper plate
Blue Construction Paper
Paper Towel (optional but recommended for messy fingers)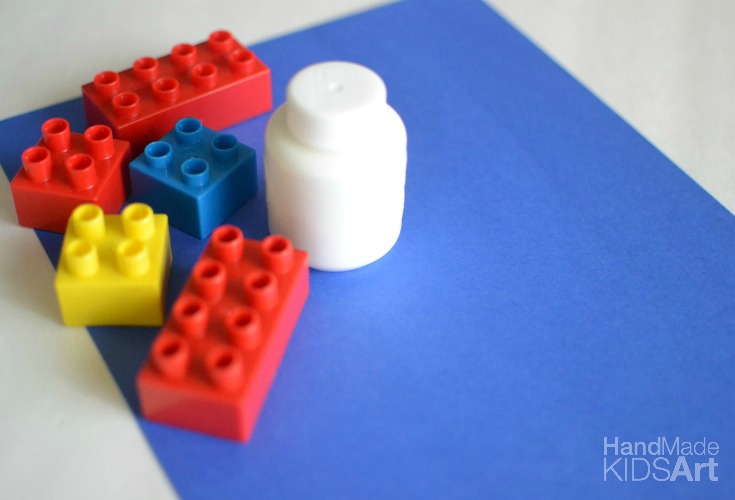 Tutorial
Step 1: Discuss what a blueprint is and look at some real life examples.
Step 2: Pour paint on the paper plate.
Step 3: Dip the lego into the paint and then stamp it onto the  blue paper. Experiment with printing from both sides of the LEGO DUPLO. We discovered one side will print circles while the other side prints square or rectangle.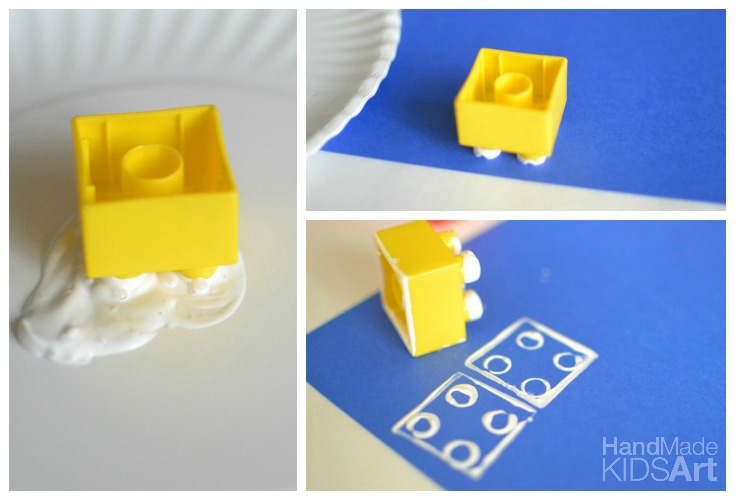 Step 4: Repeat stamping with the lego brick to create your building. Let paper dry.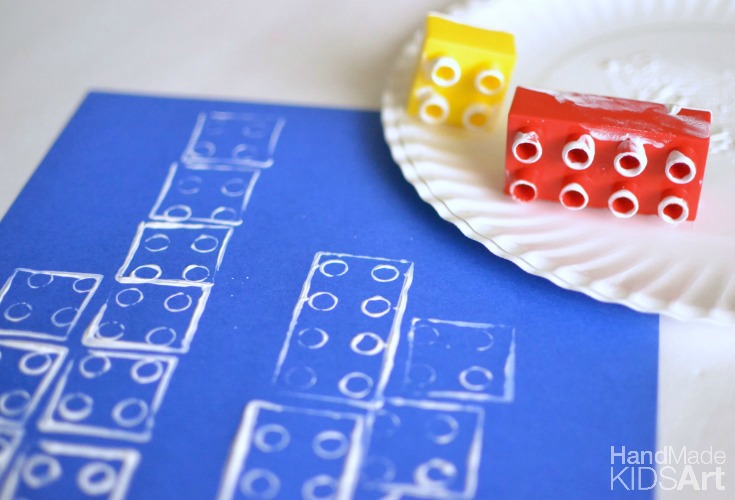 Step 5: Once your paper has dried try using your blueprint as a guide to build your structure with LEGO.
Questions to Ask:
How many bricks high is your building?
How many bricks wide is your building?
How would you modify your building to make it taller?
What would you add to your building?
Tell me a story about the people inside your building.
---
Click the links below to view more learning activities with LEGO