Being a teacher today is not the same as it was five or even three years ago.
Standardized testing, school safety and social media are prominent concerns in education today.
Teachers are stressed.
Students are stressed.
With social media, we can easily connect with friends, family and even people across the world.
Yet despite this fast-paced world, students today feel more alone (https://www.ncbi.nlm.nih.gov/pubmed/26783723).
What can we do to help build self-esteem, empathy, and a sense of community?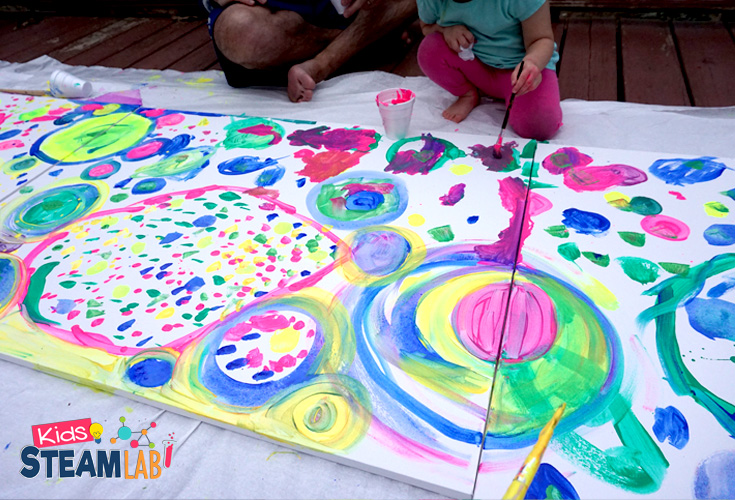 I discovered the website, circlepainting.org and founder, Hiep Nguyen.
I love his message of connecting people and creating through art.
He hosts different community and school workshops around the world where participants create collaborative works of art using circles!
He stresses that circle painting is not about creating a painting it is about creating a collaborative creative experience!
We could not agree more!
In today's educational setting we see more and more STEM or STEAM classes popping up in the school's across the country.
But are we creating a collaborative experience or community for our students?
Over on our sister site, Preschool STEAM we train early childhood educators on the importance of creating STEAM experiences.
We feel that this is still important at the elementary level too.
---
How can you integrate the standards you need to teach while building character, community and connecting to our students?
This is an on-going conversation and one activity isn't going to address all these concerns.
But we can start to introduce STEAM activities that connect our students and promote creativity, collaboration and community.
One easy and simple way to get started is with circle painting.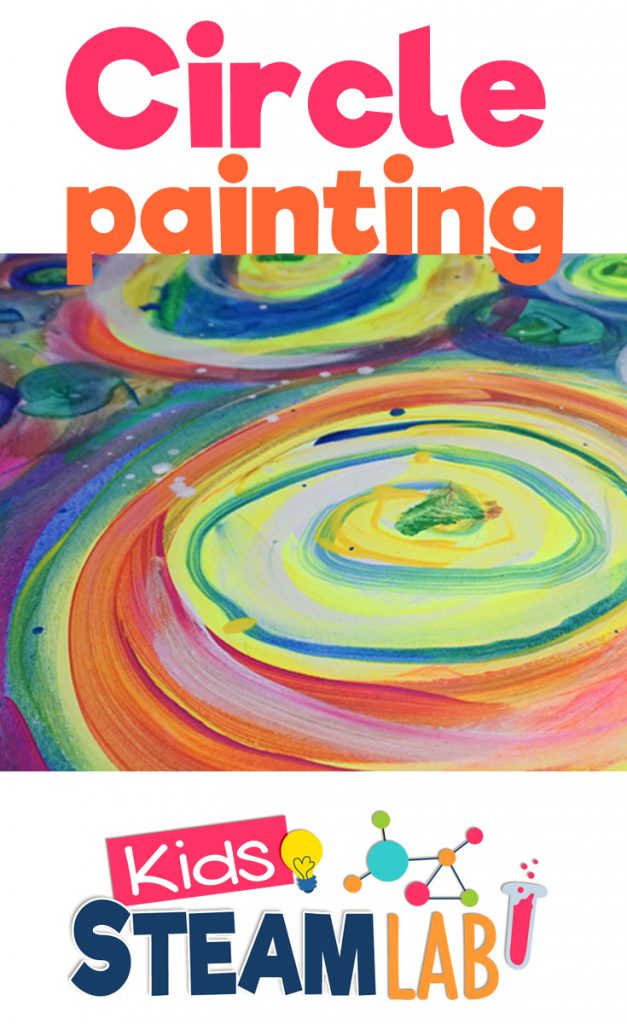 STEAM Challenge: Create a collaborative mural using painted circles.
Materials:
Primed Canvas
Acrylic Paint
Paintbrushes
Paint cups
Drop Cloth
Each artist picks one brush and one color and starts by painting big giant circles on to the canvas.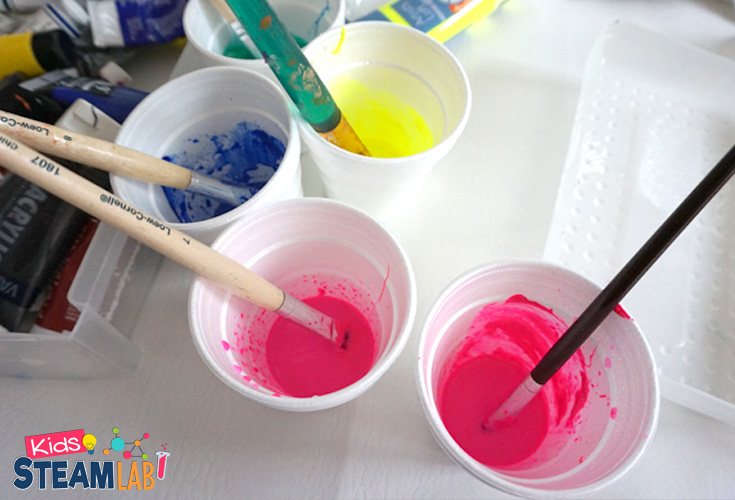 Move around and paint a variety of different size circles.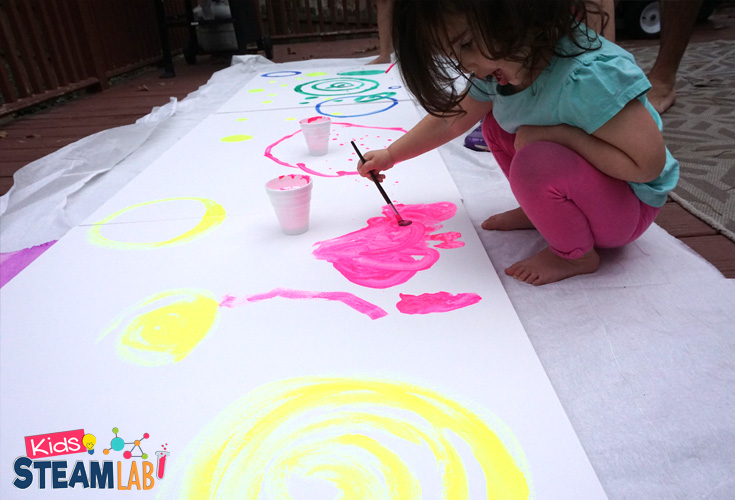 Switch colors and brushes.
Once the canvas begins to be filled with circles start by creating patterns with circles. Start layering circles on top of circles.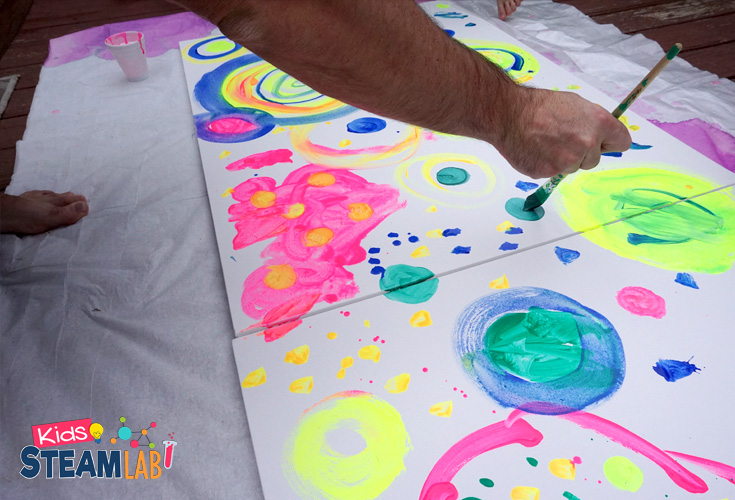 What are other ways you can create a circle? (The book, The Dot is a great extension of this activity).
Continue to switch colors and work until the canvas is filled.
We love that this type of painting encourages success from all ages and skill levels.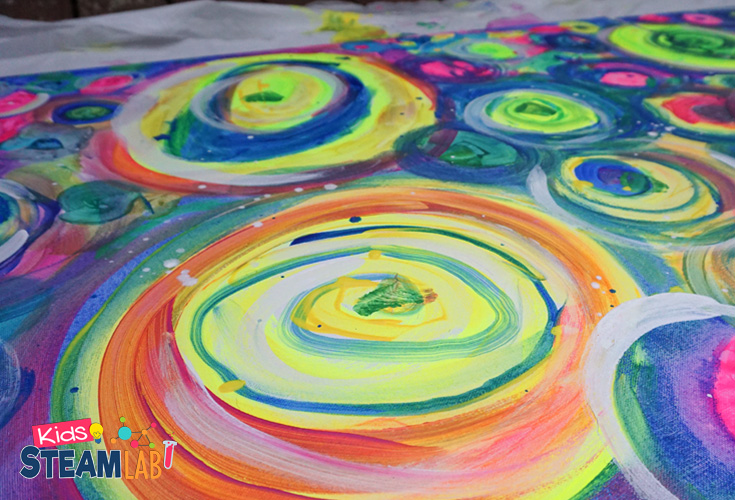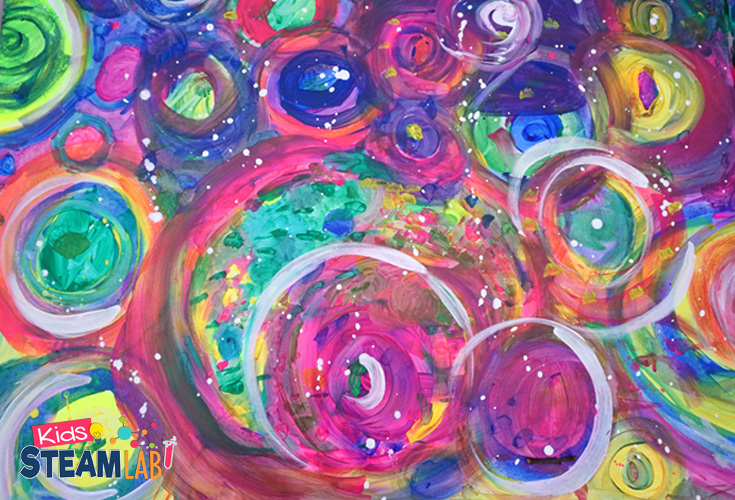 For a finishing touch, you may wish to take a black permanent marker or white paint marker and add outlines or tiny dots of pattern and texture.
We hung our finished circle painting mural in our living room.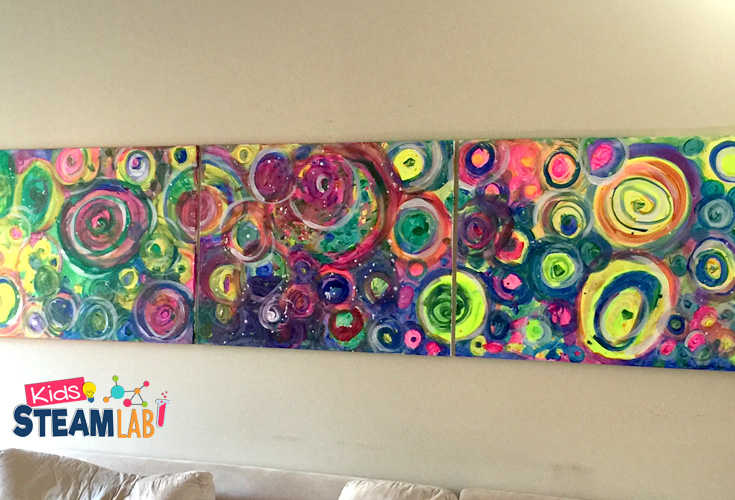 STEAM Integrations:
Science: Observe circle shapes in nature or your environment
Technology: Create a time-lapse video of your circle painting.
Engineering: Build a three-dimensional sphere from paper.
Art: Create a collaborative mural using shape, pattern and color.
Math: Create your own circle inspired work of art using fractions of paper circles.
What are other ways you are working to create an experience for your students?
This post is part of the 28 Days of STEM hosted by Left Brain Craft Brain.