This STEAM activity will have you flipping, twisting and rotating!
Combine Math and Art for a truly unique one-of-a-kind heart shape math puzzle.
Can you arrange 20 congruent triangles to create a heart shape?
STEAM activities for kids are designed to stretch and grow your child's thinking.
What I love about this simple math puzzle activity is that you can modify it based on the skill level of your child.
To save you time, I have created a printable download so you all you have to do is print the 20 triangles to get started quickly.
I also have included an "answer" sheet but I would encourage you to let your child create their own answer to the puzzle.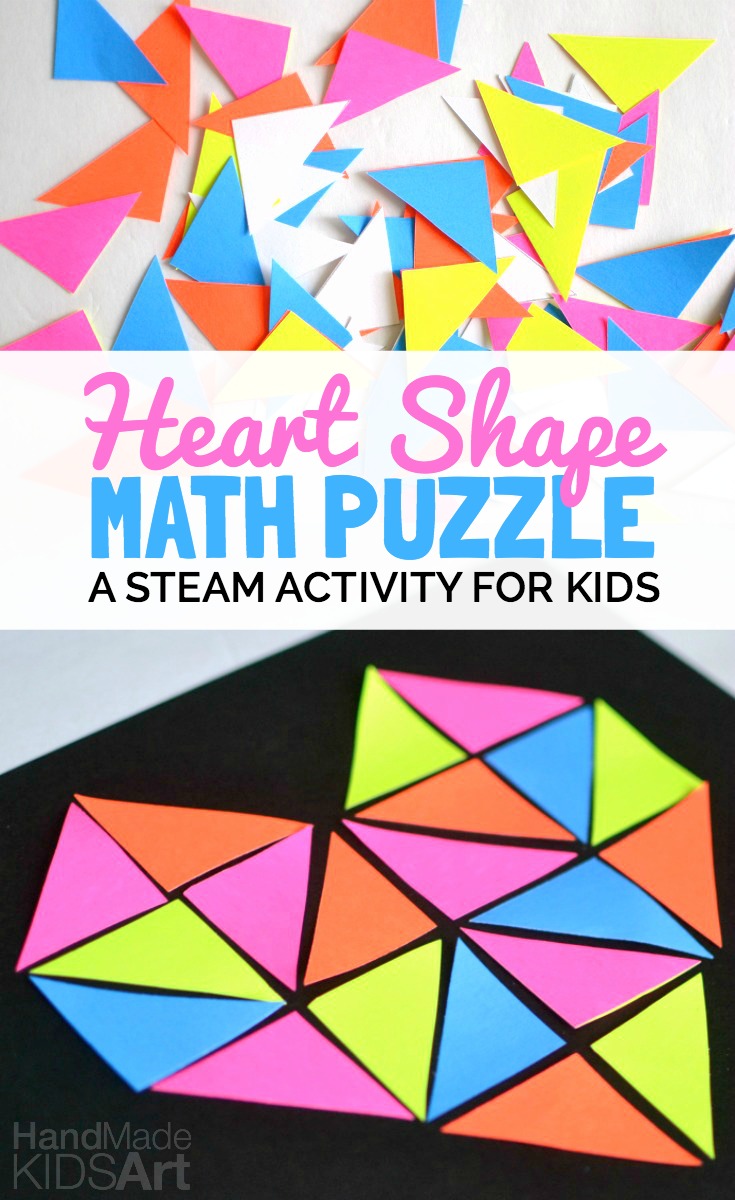 ---
Vocabulary:
Congruent– Shapes that are the same size.
Rotation– Turning a shape around a fixed center point.
Reflection – Flipping a shape over a line of symmetry.
Translation– Sliding a shape up and down or side to side
---
Since my own children are younger, I used the words, turn, flip and slide during the activity.
My goal was to introduce to my young children that shapes may turn in different ways to create new shapes.
For the older child, you can begin to introduce the math concept of transformations. I found this  youtube video helpful as a review of the different transformations.
---
STEAM PUZZLE CHALLENGE: Use 20 triangles to create a heart shape. 
Materials: Triangle Printable (see below), Scissors, Glue stick, Paper
---
Get your FREE Triangle Printable!
---
Step 1: Print and cut your 20 triangles. I printed the 20 triangles directly onto colored printer paper to make our colorful triangles.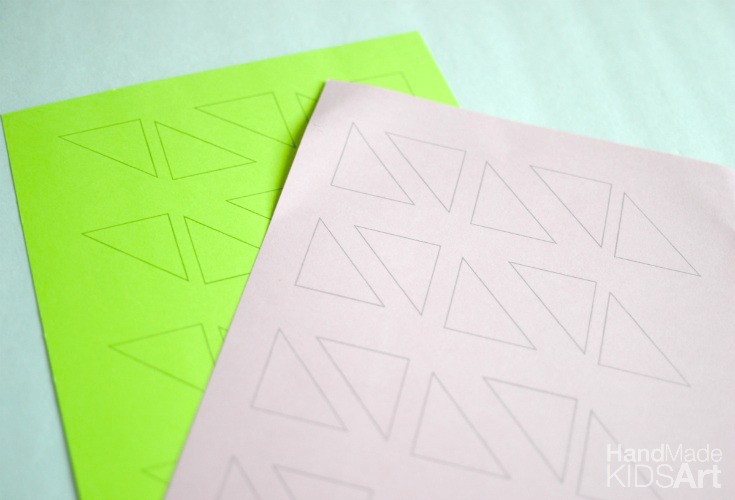 I had Lil B (6) and M-Woww (4) cut out their own triangles (we can always use extra fine motor practice).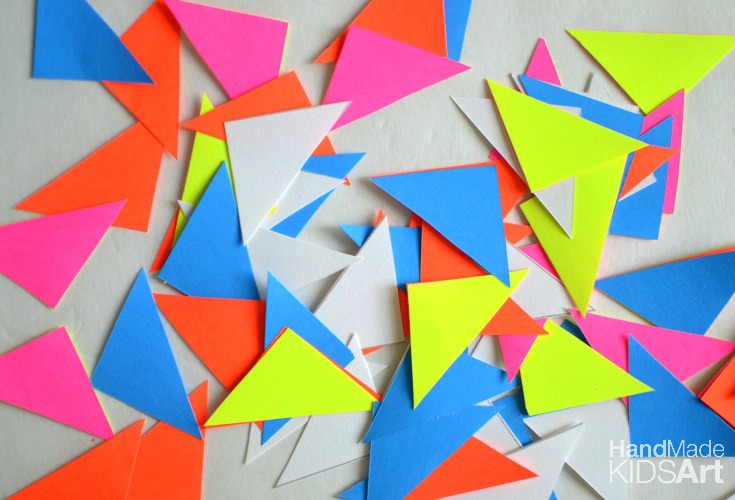 Step 2: Build your heart! Ask open-ended questions to prompt your child's thinking. Encourage your child to turn, flip and slide the triangles. Remember, while I do provide a solution to the math puzzle there really is no wrong answer. It's okay if your child got creative with it!
Activity Modifications
For the older child: Leave the math puzzle open-ended for your child but review how shapes can flip, slide and rotate.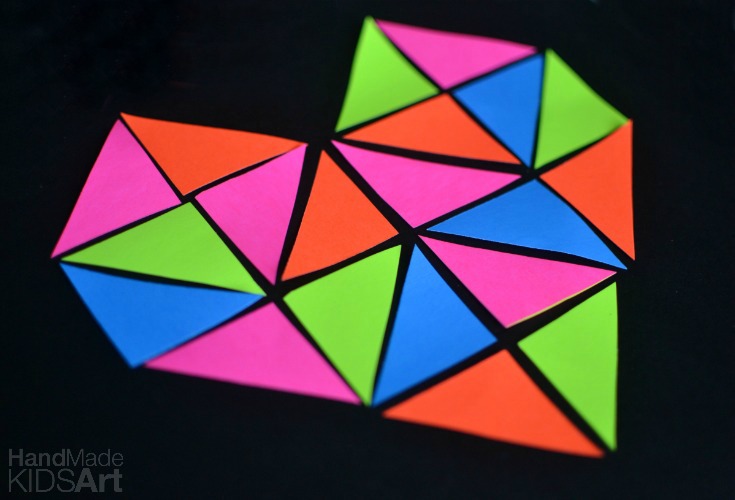 For the younger child: Show your child the heart shaped answer sheet and have your child match the pattern of triangles on their own blank paper.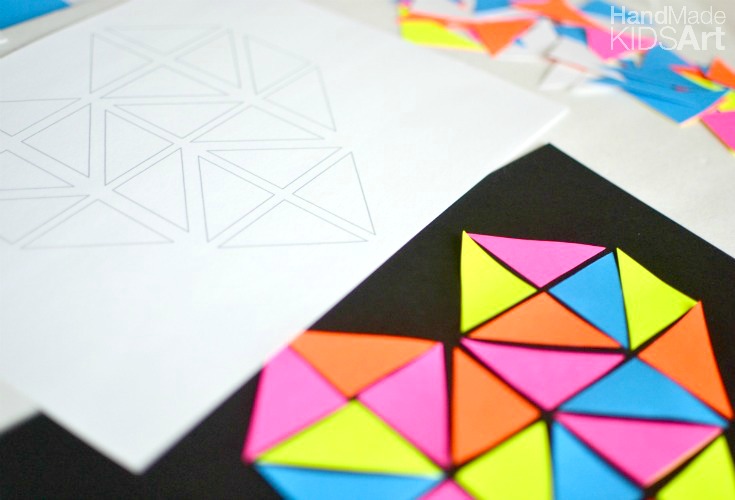 Preschool Modification: Encourage your preschooler to match and glue the triangles directly onto the heart shape answer sheet. Talk about how the shapes have to turn to match the triangle on the sheet.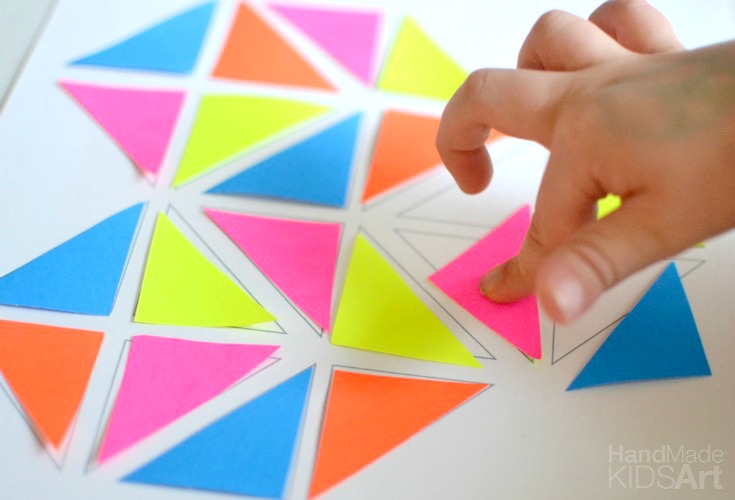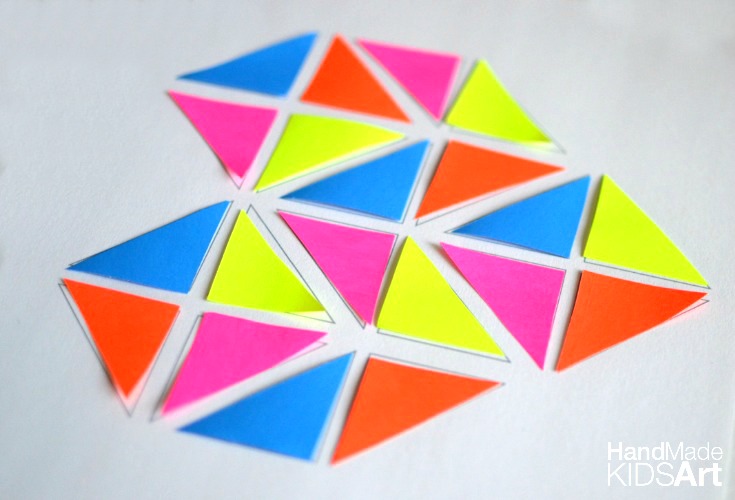 And do you have a toddler too?  Tape down a sheet of contact paper and let your toddler stick triangles to it. Activity modifications make it easy to encourage and grow your child's thinking based on their current skill level.
Most important, remember to keep it fun and embrace your child's truly unique solution to the math puzzle. Activity Extension: Challenge your child to see what other shapes they can create from the triangles.
---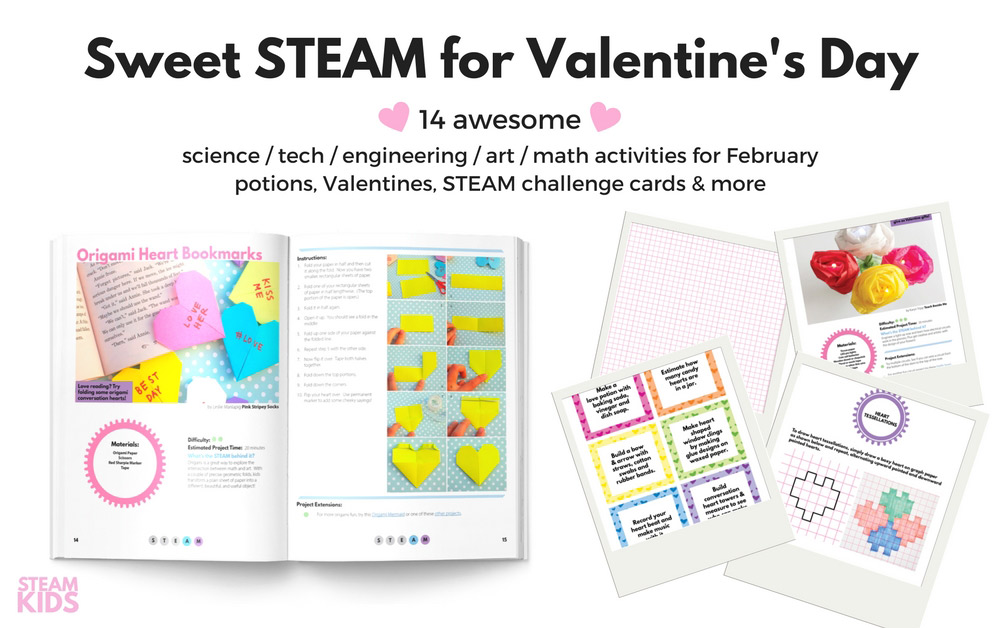 This post is part of the STEM Saturday series. Be sure to hop over to view more STEM activities.  Best Structure Building Activities for Kids from Little Bins for Little Hands Eiffel Tower STEM Challenge from Preschool Powol Packets Valentine's Day Science | Magic Milk Hearts from The Science Kiddo Animal Camouflage Hands-on Science Activity from Stir the Wonder Valentines Themed Density Jar Experiment for Kids from Lemon Lime Adventures