Non-Toxic Finger Paint
Not every project goes exactly as planned, especially with a two-year-old who does not like to get his hands dirty. This project was inspired by Lil B's two aunts, one who used the cool whip with her son and the other who was looking for activities for a one-year-old. Here we go!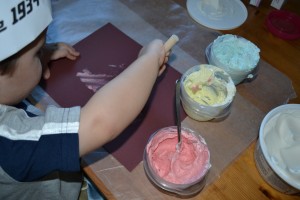 Materials:
Cool Whip
Kool-Aid or Jello or Food Coloring (optional)
wax paper or highchair tray
Activity: Pretty simple, finger painting with Cool Whip. Your child can use their fingers to create a masterpiece by drawing into the cool whip. I recommend covering the surface area with wax paper for easy cleanup. If your little one is younger than 2 you may want to go ahead and do the activity in the high chair finger painting right on the tray.. To add color you can add in a 1/2 packet of Kool-Aid or Jello packet. We tried both ways. Another option is to add a few drops of food coloring to the cool whip. As I mentioned above, Lil B did not want to use his fingers so I did give him a brush and paper….that didn't work as well.  But it still kept him busy!