We are back for our second week of the FREE ecourse, STEAM: Preschool Activities for STEM Enrichment, and we are getting digital! Preschoolers will use a digital camera to show understanding of numbers 1-10.
It is important to remember that technology is a tool to help your child learn numbers, letters, or whatever they may be interested in. We don't know what advances lie ahead for this future generation.  Jobs and industries that children will work in have yet to be invented. By providing preschoolers the opportunity to explore different types of technology it will help begin a foundation of what these tools are used for.
This activity is re-printed with permission from STEAM:Preschool Activities for STEM Enrichment
Week 2 TECHNOLOGY CHALLENGE: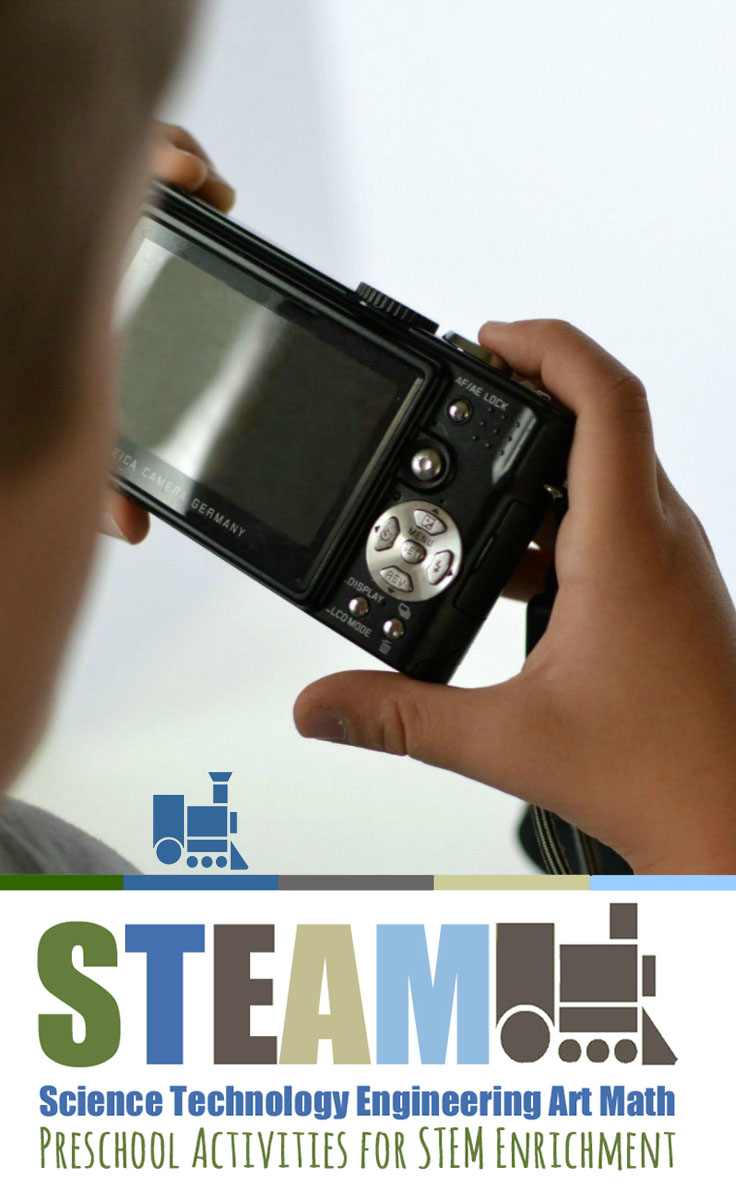 Using Technology to Enrich Learning:
Digital Photo Number Book
Learning Objective
Create a photo counting book for numbers 1-10.
Materials Needed
Paper
Numbers Printable Sheet*
Digital Camera or Cell Phone Camera
Printer
Mini Photo Album
Directions for Activity:
1. Print off the number sheets* (or make your own). Cut each sheet in half along the dotted line.
2. Introduce the child to the digital camera. Let him "explore" the camera. Demonstrate how the camera turns on and off, zooms in and out and how to take a photo. It is important to use a neck strap or wrist strap so that it prevents the camera from being dropped.
3. Layout the printed numbers and have the child start collecting objects and laying them on the corresponding number (for example, one toy car, two trucks, three train cars, etc). Let them be creative.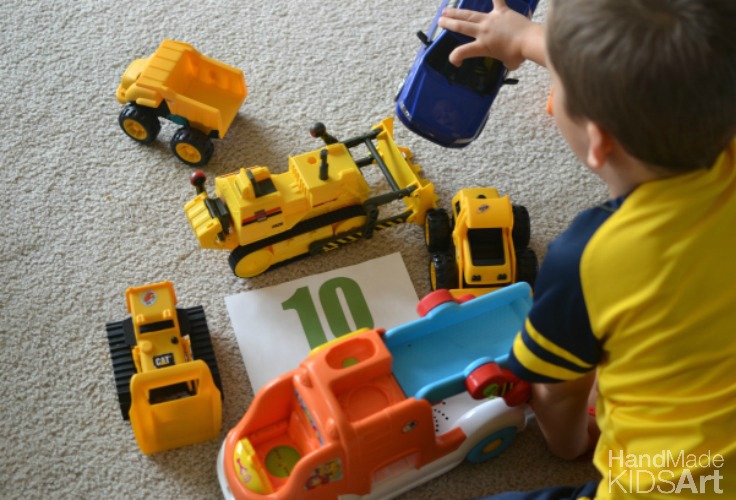 4. Have him photograph each number and the correct corresponding number of objects.
(Below are examples from Lil B's camera. These photos are unedited except for the addition of adding our Hand Made Kids Art logo).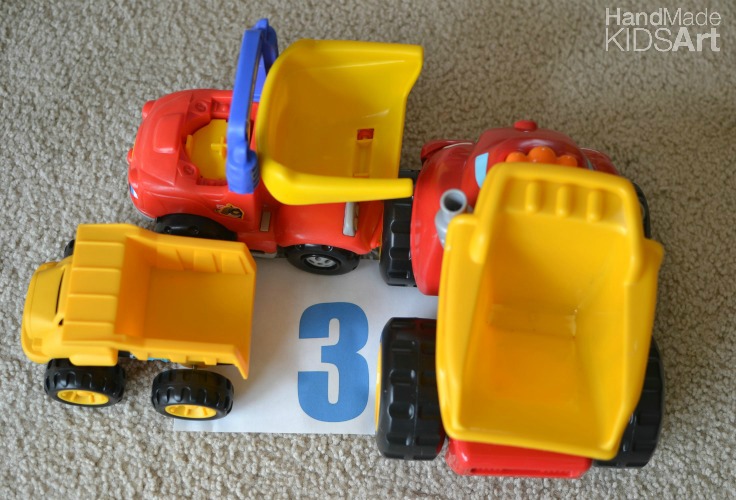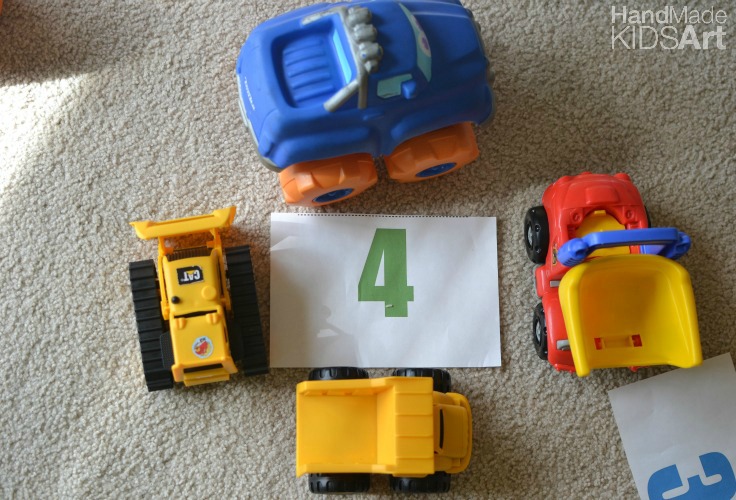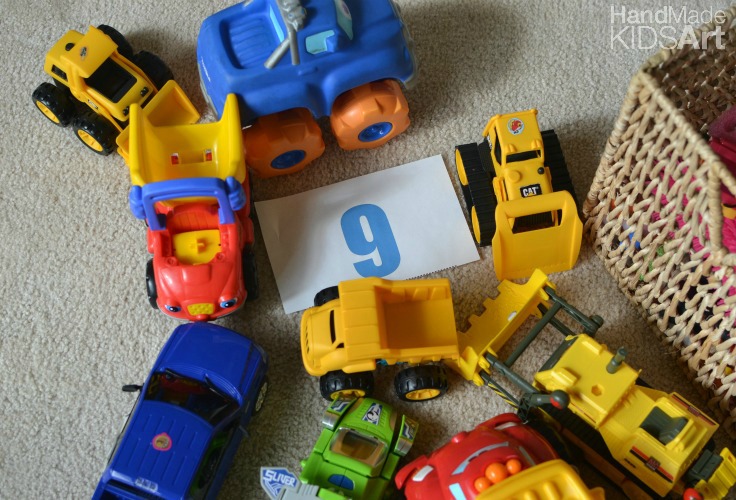 5. Print out the pictures.
6. Insert the printed photos into a mini photo album to create the photo book.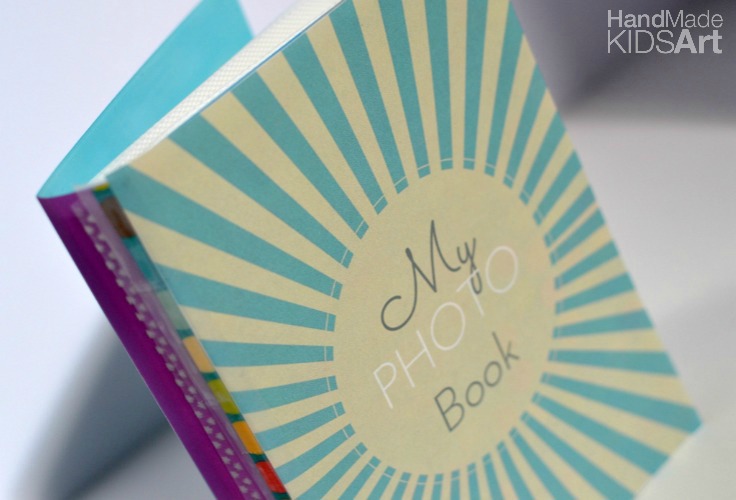 *Number printable sheets are included in the ebook. You can get your copy here!
Don't forget join us!
Join us this SUNDAY for the second week of our ecourse with a Google Hangout on September 28th @ 8:00pm  to hear tips and tricks for incorporating Science activities for your preschooler. We will be discussing along with Amanda from The Educator's Spin On It our own personal experiences and tips for using technology with preschoolers.
No registration is required, but we would love for you to share in the blog comments how your child did, any observations you made, or other tips on how you are improving that area of academics with your preschooler.
STEAM Preschool E-Course Schedule
Friday 9/26- Technology Challenge Announced
Friday 10/3-  Engineering Challenge Announced
Friday 10/10-  Art Challenge Announced
Friday 10/17-  Math Challenge Announced
Friday 10/24- STEAM Challenges: Pictures and Stories from YOU!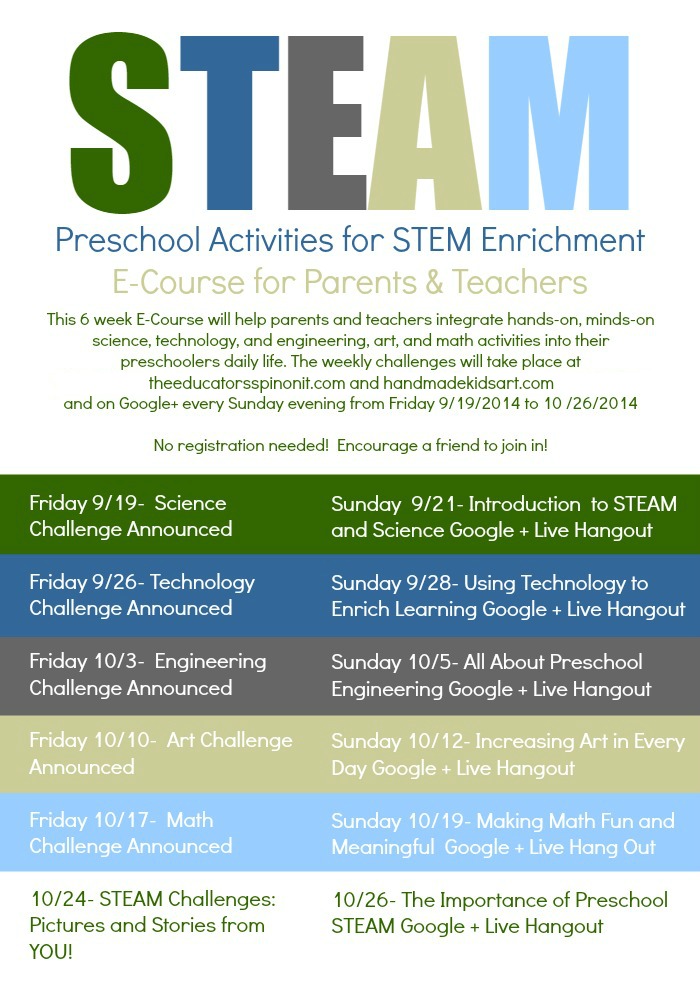 This activity is one example from the ebook, STEAM: Preschool Activities for STEM Enrichment of how to easily incorporate STEM enrichment into your preschoolers daily lives. Click here to purchase your copy of the ebook.
Click on the images below for more STEAM and STEM Preschool Activities
Click Here for more tips on teaching children how to use a digital camera!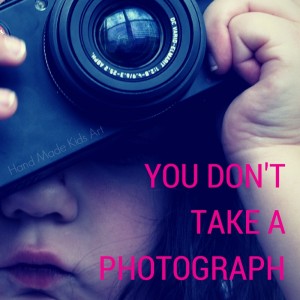 Follow us on Facebook, Instagram, Twitter or Google +!
Subscribe to our newsletter to stay up to date on all our latest posts and projects!