Do your kids get bored with their toys?
Does clean up take forever?
Toy rotation saved my sanity.
Before we started rotating toys, every toy would be dragged out and dumped out creating a gigantic mess.
I don't think toys were even played with but rather just dumped out on the floor!
I was a full-time working from home Mom and I could not take it anymore!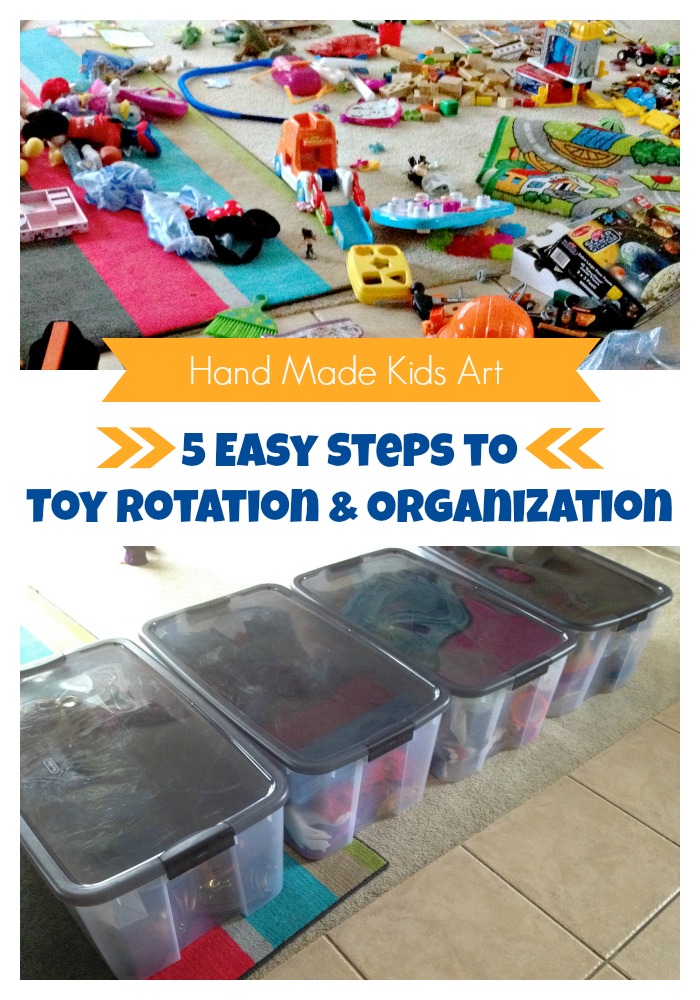 The first time I organized the toys, Lil B was 3 years old and M-Woww was 1-year-old.
I decided to take one night after they were in bed to reorganize the toys.
This year with Lil B being 4 (and more attached to certain toys) I wanted him to be a part of the process.
Yet at the same time there were some toys that I wanted gone and I knew they were not necessarily his favorite toys but he may want to keep them.
This is where I did a secret "mom-ninja toy sweep".
During nap time I made a sweep through the pile of toys and got rid of the ones I wanted gone. For older kids you may want to start the process when they are at school so you can also "mom-ninja toy sweep".
How to Organize your Toys
Step 1: Dump out all the toys on the floor and yes, I mean all of them. You have to see what you have in order to know how many toys you are working with and what you need to purge or store.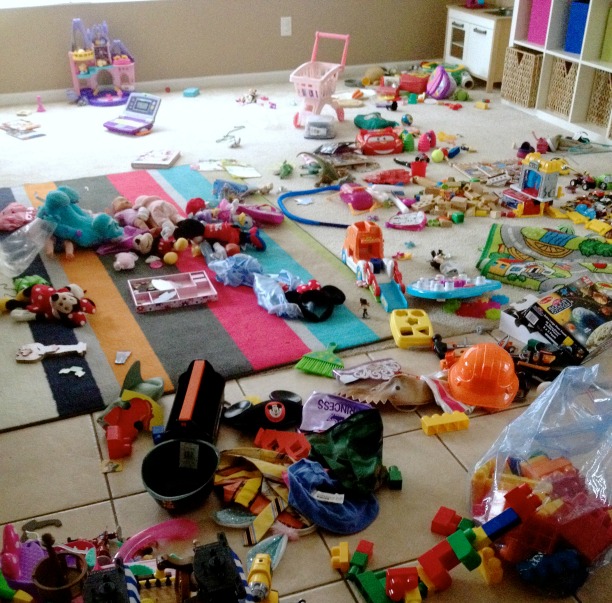 Step 2: Group toys into like piles. For example, I had a pile of cars, a pile of blocks, a pile of dolls, etc, etc.

Step 3: Purge! I can't say this enough but it is a lot easier to manage without as many toys around.
First get rid of any broken or missing pieces of toys.
Second, go back through and think about, do my kids love this toy or even do you love it?
This is a great time to take away those crazy toys that make noise randomly throughout the day and night. Donate the toys that are still good and throw away/recycle the broken ones.
Step 4: Now that you have piles of toys around the room, take a look and see how many storage boxes you will need. The first year we had 6 boxes, this year we consolidated even more down to 4. It is up to you how many boxes you can store or want.
Step 5: Fill the boxes. I kept some sort of theme to each box but I made sure to give a variety of toys for each box.
For example, in each of our 4 boxes there is some sort of dress up clothes, building blocks (of some type), and puzzles.
For themes, one box has all the pirate and princess stuff, one has trains, one has cars, and one has science stuff and animals. I also made sure there were favorite toys of both kids in each box (so even in the primarily car box there are M-Woww's favorites too).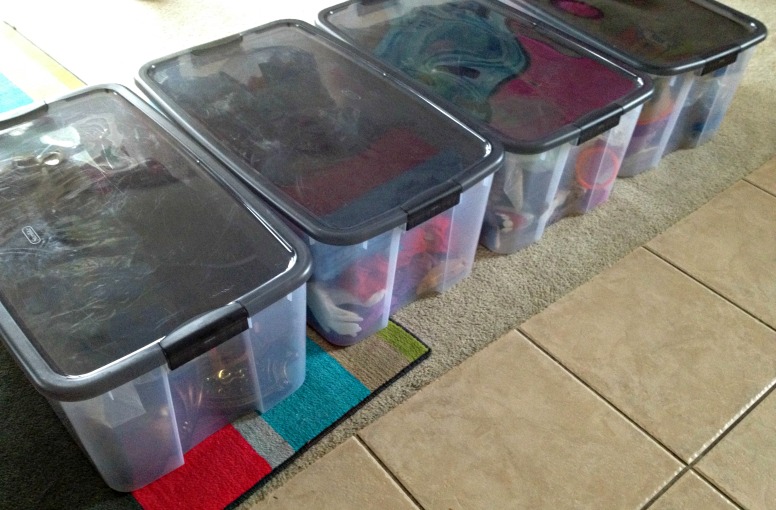 And then you are done, well almost….don't forget to label your boxes.
I suggest numbering the boxes and adding a little description about what is in the box. If you are really detailed you can write every toy…but I just listed a few of the main toys so I know what is in the box.
You never know when a toy emergency may come up and you have to locate a certain toy.
I made a free printable that you can print and write on (Click on ToyBoxLabels for black and white version or ToyBoxLabels_Color for Color version).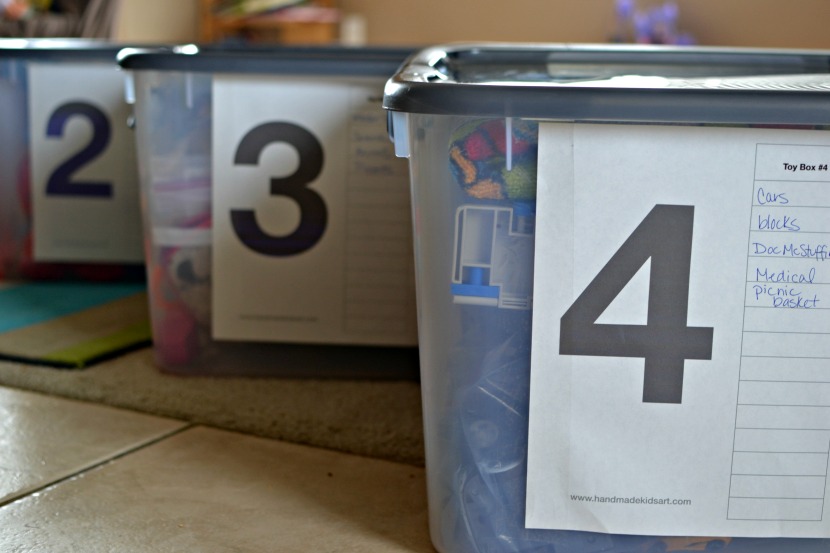 How we Store Toys during the Week:
We have the ever popular Expedit bookcase from Ikea that houses the toys that are out for week.
All the toys from that week's open box are put away in one of the baskets during the week.
I tried to make picture labels and have each toy go in a certain basket but this was not realistic for my children or my sanity.
I quickly ditched the labels and then told them it doesn't matter which basket the toy is put in, just put the toy in a basket. This makes for a much faster clean up.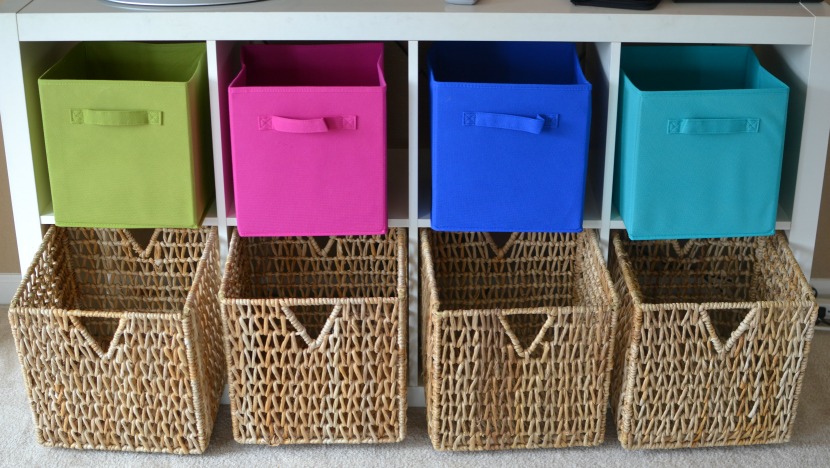 How we Rotate:
Every Sunday night we pack up the box that is currently out all baskets are emptied and put back into the box.
I can quickly see if everything is put away because all the baskets are emptied.
On Monday we open the next box.
There are many ways you can rotate, weekly, monthly, do what works for you.
For us, weekly works well. It keeps them engaged and it is a month before the see the same box again.
Breaking the Rules:
We do have some toys that stay out all the time.
The play kitchen and food is always out.
Also, Lil B keeps out his most favorite cars (but they are stored in his room). M-Woww's new princess castle and baby doll are also left out and will be stored in her room.
There are many ways you can organize and rotate toys. This is just one example and what works for us.
Let me know how do you manage toys at your house?
You may also like our popular posts:
10 Questions to Ask Your Child about their Artwork
My Child's Artwork is a Pinterest Fail